Interview of Satoru Yamashiro+Takao Nishizawa《interviewer: Miori Baba》

Interview of Satoru Yamashiro+Takao Nishizawa
《interviewer: Miori Baba》
---
buildingLandscape, ltd., is a design office established in 2002 by Satoru Yamashiro and Takao Nishizawa. Although in the form of joint presidency, each founder also carries out its own work. From town development to construction method development, they are expanding the work of architects to the fullest.

"What are the thoughts that the two hosts of the office have individually brought up?"
"What are the values they have created together as "buildingLandscape"?"
"Where does "buildingLandscape" go from here?

Miori Baba, who knows the two from college days, will ask to approach the essence of the company.
---
Encounter with architecture
Baba: Mr. Yamashiro, Mr. Nishizawa, please tell us the story of how you have decided to become an architect.
---
Yamashiro: When I was little, I was weak so I originally wanted to become a doctor. However, in the Izumo City Library, where I had been going to study for the entrance examination, I found "Izumo Taishachou" in the collection of Kiyonori Kikutake's architectural works, and learned that "architecture" can exist in everywhere, not only in urban area. Although there was no one who named themselves "architects" around me in Shimane, I started to think about becoming one in earnest since then.
Speaking of that, I have always been interested in art, and I sometimes heard stories like "an artist didn't sell a single picture while they were alive". I thought, compared to that, architects can get money while they are alive! (Laughs)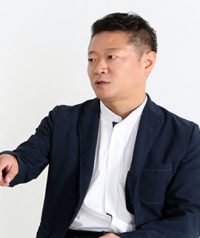 ---
Nishizawa: I used to live in a housing complex when I was a child. At that time, looking at the room layout in the newspaper's housing advertisement, I liked to imagine what kind of space it was. When I was in the fourth grade of elementary school, I started to travel on my own by train. It was really fun to see the scenery, towns and architecture in different places. When I was in high school, I didn't feel like going to a school library where there were only boys (laughs), and I often went to libraries around Iidabashi to study. I read one architecture magazine there and was taken away. I simply thought "this is cool." I decided at that point that if I would go to the university, I would study architecture.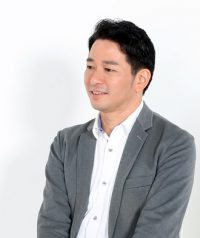 ---
Days at design offices
Baba: After that, you two chose to get a job at the design office. Mr. Yamashiro went to Maki and Associates in 1995.
Yamashiro: I got an advice from Mr. Hidetoshi Ohno, who was my teacher at the university, about entering Fumihiko Maki's office. At that time, Mr. Maki was already 66 years old, so I can't deny that I thought it might be better to work under a younger architect. However, when I thought about it again, all the resting spots I was visiting at that time such as "Hillside Terrace" and "Spiral" were designed by Mr. Maki. I started thinking that there is a lot to learn from architects who create free places to rest in the city. I was at the Mr. Maki's office for 7 years. It was a facility called "Fukushima Gender Symbiosis Center" that I was involved in everything from proposals to completion. In addition, I worked on the design of "TV Asahi" and "National Institute for Japanese Language" and went independent in 2002. Right before that, when they invited me to take charge of a small museum project, I thought about staying a little, to be honest though (laughs).
Baba: In the same year, 1995, Mr. Nishizawa went to Itsuko Hasegawa Atelier.
Nishizawa: During the summer vacation of my second year of my master program, I worked part-time at her office by the introduction of my university senior. At that time, they were working on the Cardiff Bay Opera House design competition, so people from various countries were working together. The night before the submission, when I was working on pasting the drawing with her at midnight, she asked me, "Nishizawa-kun, what will you do for work?" The communication between the director and the staff was thriving at her office. The opinions and the judgments she made intuitively were always on point, and I thought I wanted to work with her. As a staff member, I was there for about 4 years, and also after that, I was assigned various jobs on a project basis. I did the exhibition plan for the whole exhibition, and went to Niigata, Nagaoka, and the United Kingdom to set a video device for the opera. I even did the project manager of the Itsuko Hasegawa booth at the Venice Biennale. I did a lot of work that deviated from the area of architecture (laughs).
---
Making the most of the benefits of collaboration.
Baba: Both of you were working in the office in your twenties, but during this time when you were probably the busiest in your life, you worked together as a member of the media art unit Responsive Environment. When did you two started working together?
Yamashiro: Responsive Environment started in 1993, when we were graduate students, and we have been working together since then. We did creative works with architects, musicians and dancers to create installation spaces in the city and sometimes did performances.
Baba: Did you decide to start a design office together from there?
Yamashiro: At first, we were just sharing the office space at Takadanobaba, but I suggested that we work together. We found the office in the form of joint presidency in 2002.
Baba: I have the impression that you two have your own works while at the same office.
Nishizawa: I consider "buildingLandscape" as a "joint platform" or "label". We are not an architect unit that co-designs everything. We do our individual works, and when in need we help each other. We share our work and space but keeping it flexible.
In my case, I collaborate with other design office sometimes, but I am careful about maintaining the values and quality of the label "buildingLandscape".
Yamashiro: In "Miyamura Animal Hospital" project, which I recently worked on, Nishizawa did the design. My part was applying the LVL quasi-fireproof structure developed by myself to that. One does the structural development, and the other does the design. This kind of partnership allow us to focus on our own work, without caring about the credit or each one's territory.
What I feel from the experience of many years of collaboration since I was a student, is that when you start thinking about "to which person does the credit go to for this and that", the collaboration works gets very boring. I think we overcame that and practicing the ideal form of collaboration.
Baba: Collaboration works tends to settle down to the greatest common factor of each person's work. Is there a way to overcome that?
Nishizawa: On the meeting at the Responsive Environment, there was a rule that "you should present an idea with a complete whole picture, not a fragment of it". Once we chose the best one from those ideas, each tried to pursue it even if it was not his/her idea. After that, we divided works according to each person's field of expertise. At "buildingLandscape" s, we often go through this decision making process.
---
Creating architecture is creating time.
Baba: Is there any project you want to do in this office where you can move freely while being a unit?
Nishizawa: I would like to do more works that starts from the framework based on the major premise of "What is necessary for this place?" Our "Setouchi Umi no Eki Station" project, which was selected for the 2016 SD Review, took 7 years to be finished. No single person was in charge of the project and was built at a seaside location where there is nothing around. During that time, I researched the island number of times and worked with the local governments to carefully consider what should be built and made decisions together.
A normal architect's job is to design an architecture based on clients' requests. However, I think what is really important is the process of seeking for "the shape of the future somebody want".
Yamashiro: I totally agree. I am interested in architectural work that I can get involved from the technical development stage. I am currently involved in the development of "Urban Wooden". I started studying wood because I have the ambition to increase the number of fire-resistant, earthquake-resistant, and high-rise wooden buildings. This is because, in this era, there are a variety of ready-made products and combinations, and they are enough to normally build buildings. However, I wish to do more. I would like to evolve my design by studying new things that I would think "How can this material be used on architecture?" I also hope that various ideas and technologies involved in my design will have an impact on society beyond the scope of design. For example, an attention has been paid to the fact that the LVL laminate surface is actually beautiful, and recently there has been a method of "showing LVL laminate surfaces". this is nice.
Baba: Each of your range of interest is different, but the stance of "opening up the knowledge" is very similar. Do you not feel resistant to letting the world have the idea you have created with such passion?
Yamashiro: Well… maybe I am aiming for something more greedy than selling my name. (laughs). Like, "I want to make an impact on the world", or "I want to get involved in the history". I don't know if the company name or personal name will remain in the history, but it would be cool if our way of making things remained naturally in the future.
Nishizawa: I feel that the motivation of having workshops in town planning is similar with that in some ways. Designers can't keep looking after handing over their creations. However, if we can share the values in the town, that will surely lead to better things.
In other words, we aim to create something that will be handed down even if it leaves our control.
Baba: I see. I feel that your eyes are directed beyond your existence. It sounds like a difficult goal to reach though.
Yamashiro: Yes, exactly. I once thought about what kind of work I wanted to do, and noticed that I probably want to do a difficult job (laughs). I want to keep up with difficult issues.
Baba:Your clients might start to think "buildingLandscape" would handle anything (laughs).
Yamashiro: Too much of them would be hard though (laughs).
Nishizawa: Even if we face a difficult task, we want to take a time to get to know each other and share an idea wholly, even an area where it is hard to explain by words. Creating architecture is synonymous with facing each other as a person. It is not just about selling products. That's also the reason we care about the design process.
Yamashiro: Architecture will be there for many years after completion. In other words, our design will directly become people's lives. Not only the design stage, but if we count that time where people will use the building, it means we will have a relationship with them for decades. It's nice to be with them for a long time.
Baba: Thank you so much, Mr. Yamashiro and Mr. Nishizawa.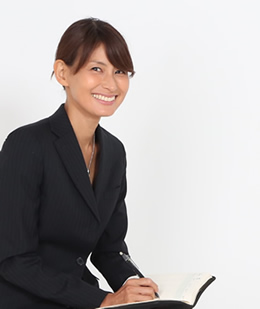 Postscript of interview
I have known Mr. Yamashiro and Mr. Nishizawa for 20 years, but this time I interviewed them and again could understand the background of their behavior. Mr. Yamashiro has an overwhelming certainty in his words due to his deep understanding of others. Nishizawa notices the "gloss" dwelling in people and events more sensitively than anyone, and creates works with subtlety that are difficult to express in words. I feel that "buildingLandscape" can work on a variety of projects that go beyond the "architectural design office" job, because they put more importance on imagination than decision, sustainability than one big shot. While working with them in Responsive Environment in the past, and now in the NPO Minami Boso Republic, I learned the joy and how heartening it is to share the future with others. Leaving hope to the future that goes beyond one person's short and small life. I believe that they will continue to work to realize that for years to come.
Miori Baba